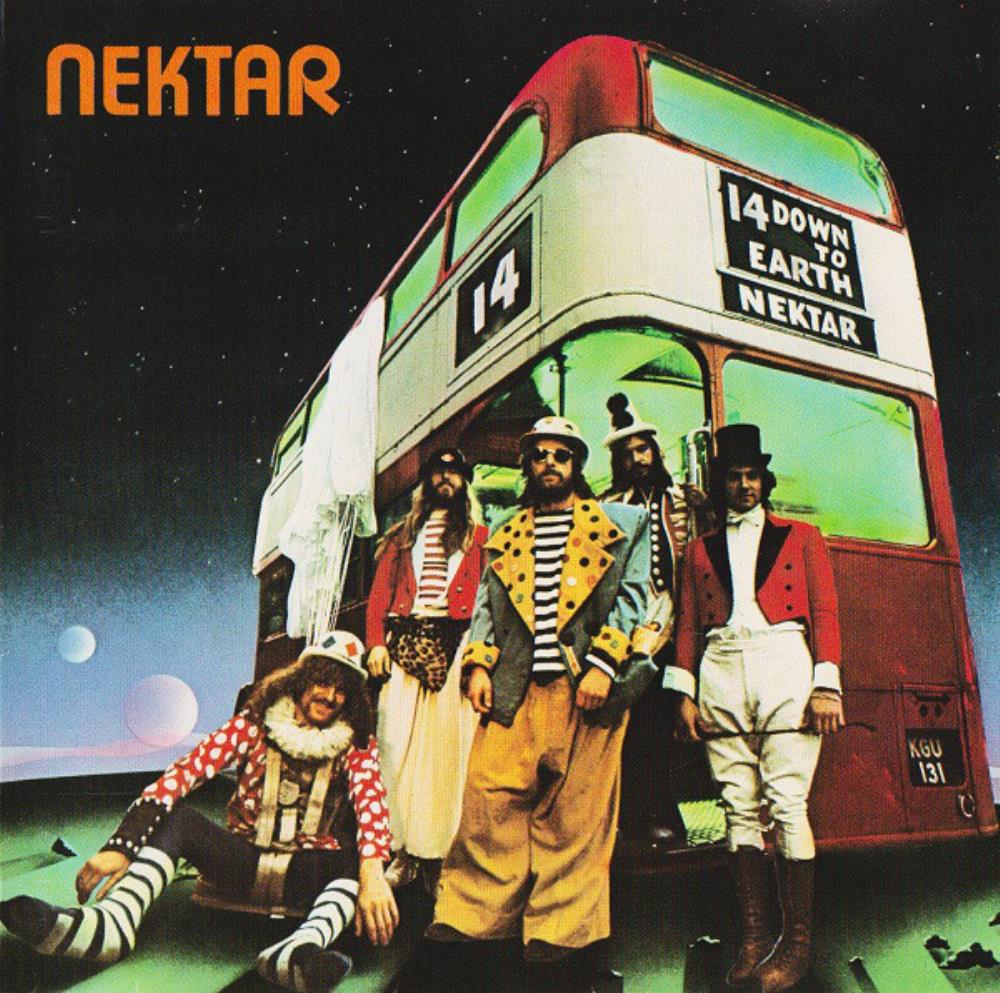 1974
Nektar
PASSPORT RECORDS PPSD-98005 / 2005 ECLECTIC DISCS DNECD 1210 REMASTERED
Producer:
A NEKTAR Composition
Roye Albrighton / guitar, lead vocals
Derek "Mo" Moore / bass, backing vocals
Ron Howden / drums, percussion
Allan "Taff" Freeman / keyboards, backing vocals
Mick Brockett / lighting, projections and visual effects
Concepts by Mo & Mick
Music by Roye, Taff, Mo & Ron
Lyrics by Roye, Mo & Mick.


A NEKTAR composition.
The Ringmaster: Bob Calvert
Backing vocals: P.P Arnold / Kenneth Cole
Tubas: Phil Brown / bass tuba – Stephen Wick / tuba
Trumpets: Butch Hudson / 1st trumpet – Ron Carthy / 2nd trumpet
Saxes: Chris Mercer / baritone & tenor saxes – Steve Gregory / tenor sax
Trombone: Chris Pyne
Choir: Chipping Norton Mandies (tracks 2-9)
As the author of the Jefferson Airplane book "Take Me To A Circus Tent" and a former radio disc–jockey, I am often asked to write and or discuss various music supplies and recordings from the 60's and 70's.
After one of the finest progressive rock masterpieces "Remember The Future" the guys from Nektar had to decide the direction of their next project. Do you continue with the theme record and the longer tracks or attempt something different? Nektar went with the alternate route and along with "Sounds Like This" comes their most underrated achievement.
1974's "Down To Earth" with Hawkwind friend Robert Calvert acting as ringmaster for the progressive circus is a tremendous listen. "Astral Man" is in its proper place as the album opens. Offering the perfect combination of catchy instrumentation with a great vocal, the three–minute tune would be superlative on stage as well. "That's Life" is a work of art. The beauty of the song comes alive each listen. "Fidgety Queen" is in your face Nektar rock and roll with no apologies needed. "Oh Willy" can be thought of as a shorter version of "A Day In The Life Of A Preacher" from "Sounds Like This." In short form it still takes hold of your body. The album builds momentum and by the time the eighth track rolls around "Show Me To Way" you are elevated to an even higher level of musical brilliance. Make sure to please purchase the remaster with 6 alternate versions and some Robert Calvert ringmaster outtakes!
If you are looking for the first Nektar CD to purchase any order of "Remember The Future", "Recycled", or "A Tab In The Ocean" will surpass your expectations. Once you have absorbed the wizardry, next should be "Journey To The Center Of The Eye", "Sounds Like This", and "Down To Earth." Those would cover the original Roye Albrighton catalog. "Magic Is A Child" with Dave Nelson stepping in takes a different approach but still a must own. You then will have several reunion choices and Roye solo projects to engulf.