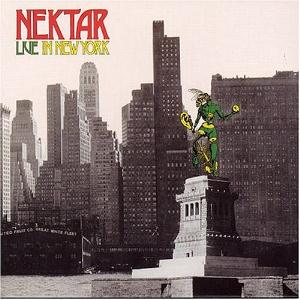 1977
Nektar
BACILLUS BAC 2044 / BACILLUS BAC 2058
Producer:
A NEKTAR Composition
Roye Albrighton: guitar, lead vocals
Derek "Mo" Moore: bass, backing vocals
Ron Howden: drums, percussion
Allan "Taff" Freeman: keyboards, backing vocals
Mick Brockett: lighting, projections and visual effects
Concepts by Mo & Mick
Music by Roye, Taff, Mo & Ron
Lyrics by Roye, Mo & Mick.
Songs / Tracks Listing
1. It's all over now (6:33)
2. Good day (7:08)
3. A day in the life of a preacher (14:53)
4. Desolation valley (9:39)
5. That's life (8:00)
6. Show me the way (4:40)
7. King of twilight (9:54)
8. Woman (4:05)
9. Good ol' rock'n roll (5:40)
Total time: 60:47
Track listing of remaster (2004):
[consists of the complete concert, including material originally released as "More Live In New York"]
CD 1 – Total Time: 54:01
1. Introduction /Astral Man (4:00)
2. Remember The Future, Part One (16:15)
3. Marvellous Moses (8:36)
4. It's All Over (5:26)
5. Good Day (6:48)
6. That's Life (6:28)
7. Show Me The Way (6:28)
CD 2 – Total Time: 68:35
1. A Day In The Life Of A Preacher (15:43)
2. Desolation Valley (9:57)
3. Remember The Future, Part Two (8:16)
4. Crying In The Dark (7:45)
5. King Of Twilight (10:01)
6. Woman Trouble (4:09)
7. Medley (6:53)
8. Fidgety Queen (5:51)
The SACD version contains an extra track of Remember The Future part 1 that was from the original broadcast by WNEW FM radio station with Scott Muny. While performing this song a power failure occurred when crew member Tommi Jung hung his coat up on the main power switch causing the show to stop. After the power was restored and a few comments by the band members, Nektar started restarted the song from where they left off at eventually ending the concert after performing three encores." Encore one was: "Crying In The Dark / King Of Twilight," Encore two consisted of "Women Trouble" and the "Rock 'N' Roll Medley" with Taff adding some special effects while performing his solo at the end of the song, and the third encore was "Fidgety Queen." Throughout the show Roye blew the audience away with several hot solos especially at the end of "Let It Grow. When you hear the audience gasping and wowing while playing this album, Mick was performing his spectacular magic with his lights and movies bringing the "Nektar Light and Sound Theatre" to life. The New Yorkers never saw anything like this and were completely flabbergasted as well as the WNEW disc jockeys in attendance that night who by the way were having a very hard time explaining what their "Ears were hearing and their Eyes were seeing" to their listening audience. All concert goers let their delight be known and looked forward to seeing this spectacular band over and over.