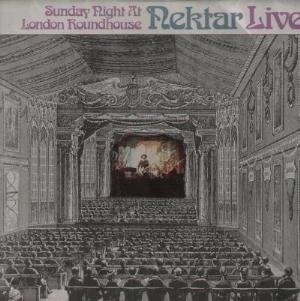 1974
Nektar
BLPS 19182 STEREO ORIGINAL 1974 VINYL RELEASE / BELLAPHON 9724327 REMASTERED (2002) RELEASE
Producer:
A NEKTAR Composition
Roye Albrighton: guitar, lead vocals
Derek "Mo" Moore: bass, backing vocals
Ron Howden: drums, percussion
Allan "Taff" Freeman: keyboards, backing vocals
Mick Brockett: lighting, projections and visual effects
Concepts by Mo & Mick
Music by Roye, Taff, Mo & Ron
Lyrics by Roye, Mo & Mick.
cover deign by Helmut Wenske
Photographs by Dieter Weis
Sunday Night at London Roundhouse was recorded on Sunday 25th, November 1973. The remastered version features an expanded release of the complete concert. The live in the studio jam that was side 2 of the original vinyl album was removed from this recording and released as a separate CD with the rest of the tracks recorded that night called "Unidentified Flying Abstract." The Dream Nebula release has been remixed from the original 16–track master tapes by Paschal Byrne, Mark Powell and Roye Albrighton. Remember The Future Part 1 was finally complete and was performed live for the very first time during this show.