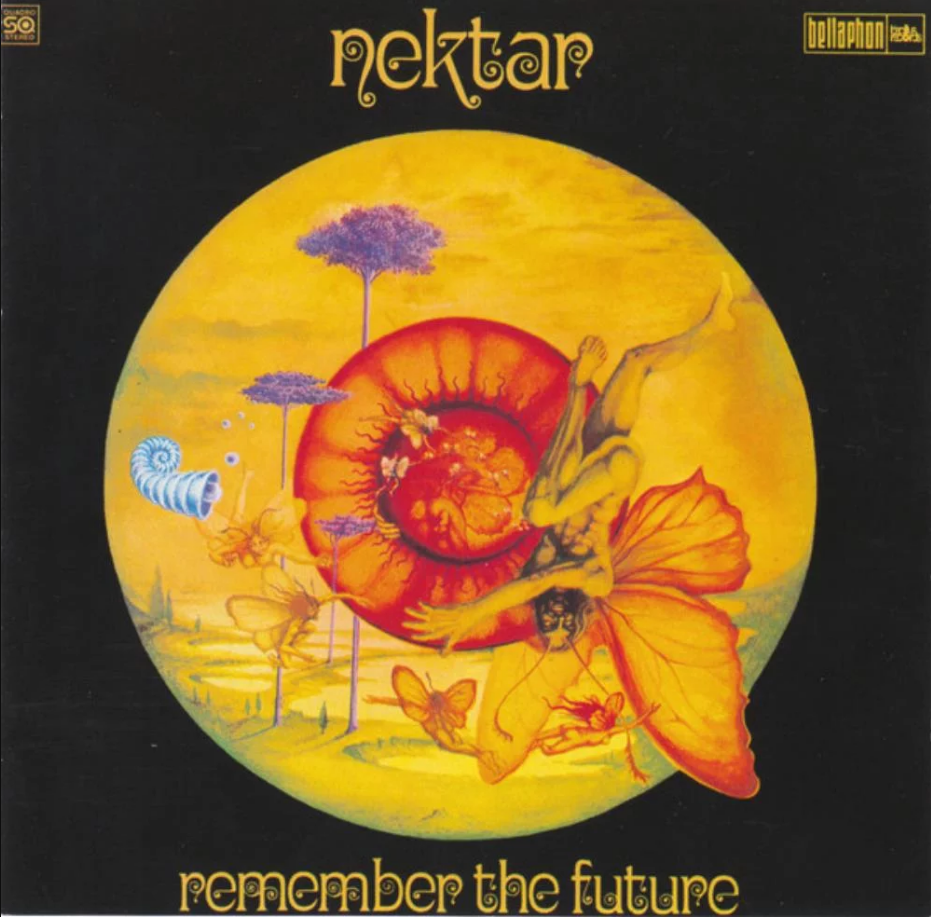 1973
Nektar
BACILLUS BLPS 19164 / REMASTERED 2002 (BELLAPHON 9724426)
Producer:
A NEKTAR Composition
Roye Albrighton: guitar, lead vocals
Derek "Mo" Moore: bass, backing vocals
Ron Howden: drums, percussion
Allan "Taff" Freeman: keyboards, backing vocals
Mick Brockett: lighting, projections and visual effects
Concepts by Mo & Mick
Music by Roye, Taff, Mo & Ron
Lyrics by Roye, Mo & Mick.
Artwork and cover design by Helmut Wenske
Produced by Peter Hauke for Bellaphon/Bacilus Records


A NEKTAR composition.
Songs / Tracks Listing
1. Remember the future – part I (16:38) :
– a) Images of the past
– b) Wheel of time
– c) Remember the future
– d) Confusion/
2. Remember the future – part II) (18:55) :
– e) Returning light
– f) Questions and answers
– g) Tomorrow never comes
– h) Path of light
– i) Recognition
– j) Let it grow
Total Time: 35:33
Bonus tracks on 2002 remaster:
3. Let It Grow (Radio edit) (3:50)
4. Loney Roads (Radio edit) (2:19)
Bonus tracks on 2004 remastered reissue:
3. Remember The Future ("Made In Germany" Edit) (9:51)
4. Lonely Roads (3:50)
5. Let It Grow (2:19)
"The most loved of all Nektar's albums. The whole album consisted of just one 40–minute long piece, which is completely flawless. The track is extremely carefully structured and well–written. There's absolutely no unnecessary in here. With the exception of the end of "Part 1", there is almost no instrumental parts here. But there's no need to worry, cause the vocals are very tasteful and pleasant, and always based in great themes. This album also have the most perfected Nektar–sound. The lyrics is about a boy who speaks to a bird, and the whole story has a very optimistic and nice message. The album was also Nektar's best selling, so it seems that the record–buying public SOMETIMES have some good taste. This album is just as important to any prog collection as Yes's "Close to the Edge", ELP's "Brain Salad Surgery" and Genesis's "Foxtrot," Tommy Shoenbergs.